Security Industry Plagiarism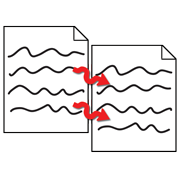 According to dictionary.com, "Plagiarism" is "the unauthorized use or close imitation of the language and thoughts of another author and the representation of them as one's own original work." This appears to be a simple explanation of the act of plagiarizing, but it is not. According to the U.S. Copyright Office, "there is no specific number of words, lines, or notes that may safely be taken without permission. Acknowledging the source of the copyrighted material does not substitute for obtaining permission." Title 17 > Chapter 1 > § 107 of the U.S. Code covers Limitations on exclusive rights: Fair use but does not outline a specific amount of text or occurrences that define plagiarism. 17 U.S.C. § 105 establishes that U.S. government works are not available for copyright protection. However, this does not exempt them from being properly cited in a written work.
Despite the law not giving a clear line between fair use and plagiarism, most professionals understand the nature of the law and adhere to a level of moral behavior that avoids plagiarism. By quoting small portions of text, properly citing the original source and ensuring their work is done in good faith, it is generally easy to avoid plagiarizing. The NYU Journalism Handbook for Students contains a section on Research Materials & Copyright that gives a good list of real world examples of what constitutes plagiarism. Plagiarism.org offers a summary answer to the question What is Plagiarism? The law offices of Morse Barnes-Brown Pendleton published an article in Writer's Digest in 2001 explaining A Writers' Guide to Fair Use. These resources should give a good guideline of what is acceptable, and what is not.
Attrition.org uses the resources above to guide us in determining if a piece of work contains plagiarized material. The types of plagiarism as outlined by Plagiarism.org serve as a starting point. Instances where a sentence or two are copied every so often are lazy, but not necessarily plagiarism. We consider the amount of copied text versus the amount of original work and weigh it against the expectation of original work. When we find material that has a significant percentage of copied material, or demonstrates signs that the author did not present original material (e.g., building large blocks of text by copying single lines from multiple sources), we consider it to be plagiarized. For more on our methodology of detecting plagiarism, we have written up some details.
If any part of our analysis is incorrect, we encourage the author to contact us and explain themselves, provide proof they authored the material, or offer proof that they obtained the rights to the material used.
Security Industry Book Plagiarists
Gregory D. Evans

Books Written: 8
Books Reviewed Containing Plagiarism: 5
Books Reviewed Without Plagiarism: 0
Ankit Fadia

Books Written: 14
Books Reviewed Containing Plagiarism: 7
Books Reviewed Without Plagiarism: 0

~ 50%
32%
n/a
~ 50%
n/a
n/a
n/a

Dr. Ali Jahangiri

Books Written: 3
Books Reviewed Containing Plagiarism: 3

Manu Zacharia

Books Written: 2
Books Reviewed Containing Plagiarism: 2
Dustin L. Fritz

Books Contributed To: 1
Books Reviewed Containing Plagiarism: 1
Sahil Khan

Books Written: 3
Books Reviewed Containing Plagiarism: 3
Mourad Ben Lakhoua

Books Contributed To: 1
Books Reviewed Containing Plagiarism: 1

Vaidehi Sachin / Cattechie

(Tech) Books Written: 1
Books Reviewed Containing Plagiarism: 1

Michael H. Goldner

Books Written: 10+ ?
Books Reviewed Containing Plagiarism: 1
Books Reviewed Without Plagiarism: 0
Abhishek Singh (Editor), Baibhav Singh, Hirosh Joseph

Books Written: 1
Books Reviewed Containing Plagiarism: 1

Craig S. Wright

Books Written: 1
Books Contributed to: 3
Books Reviewed Containing Plagiarism: 1
Books Reviewed Without Plagiarism: 0
EC Council / Michael Goldner
Rahul Tyagi

Books Written: 1
Books Reviewed Containing Plagiarism: 1
Prateek Shukla

Navneet Mehra

Jaya Bhattacharjee

Nishant Das Patnaik
[1] Evans claims he "wrote 8 books on computer security and identity theft". We can only find six of his books, one of which is not a technical book ('Memoirs of a Hi-Tech Hustler'). If Evans counts "contributions by", a seventh book may be "How to Think Big" by Dante Lee, but does not cover security or identity theft. Evans' website shows thumbnails of "Fighting Hi-tech Crime" and "Hi-tech Identity Theft", but we cannot find them for purchase on his site or any other.
Security Industry Online Plagiarists
Mike AtLee
"Director, ... and education solutions practice", but apparently his education did not teach him about plagiarism.
Bennet Bayer
"Results-based Sr. Executive driving rapid growth ..." and serial plagiarizer stripping credit for his personal blog and Avnet corporate blog advertising.
Conbis
A new India-based security company with no services, dummy text, and a blog full of plagiarized content.
David Virgil Dafinoiu

NorAm Intelligence
NorAm Capital Holdings Corporation
NorAm Media Group
U.S. - Romanian Business Council
Global Intelligence Center
Cyber Intelligence Center
ALL-Q-TELL
Serial plagiarizer, taking news articles and op-ed pieces from others, stripping credit and putting his name to them.
EC-Council
Course material, web site blog, and books branded under their name (written via Cengage) all contain plagiarized content.
eFortresses
This compliance auditing shop uses plagiarized material to advertise their services.
FORESEC Academy
Their entire security training portfolio is a blatant rip from SANS courses.
Forus-P
Netherlands-based Forus-P copied most of an article and used it as part of their advertising and marketing.
Infosec Institute
Plagiarism of course material from Corelan.be and dozens of other sources.
Kenneth Magee
Kenneth Magee, staff at InfoSec Institute, plagiarized for some of his articles.
R. Manoj
R. Manoj, assistant editor at Fanatic Media, cuts up other articles to piece together his own.
Mourad Ben Lakhoua
Repeated plagiarism in blog articles on sectechno.com
Steven Lentz
Repeated copyright violations and taking content while stripping attribution.
Jo Stewart-Rattray
International Vice President at ISACA, plagiarized portions of an article for (IN)SECURE Magazine.
The Hacker News / THN
thehackernews.com
Security news aggregation site profits off plagiarized content.
Vaidehi Sachin / Cattechie
Plagiarized or violated copyright for her magazine Hacker5 and several of her blogs.
Daniel Weis
Time-bending 'ethical' hacker, plagiarizes content for his blog.
L. Yagami / x-blackerz.org
What appears to be a small hacker site, is really a place for plagiarized content.
BRK / Dis9 Team
Yet another hacker site trying to appear as if they have original content.
Rizky Ariestiyansyah / Liyan Oz (IBT)
In copying the Indonesian BackTrack site disclaimer from another source, Ariestiyansyah forgot to remove all traces of who he stole from.
Vasu Gautam
Nondescript blogger who plagiarizes content.
Alok Anibha
The head of engineering services at a software testing companies "writes" articles about security to promote his company.
Alexandru Negrila
Co-owner of two software companies, he copied an entire paper and potentially submitted it to his college.
Voice of Grey Hat (VoGH)
Another 'hacker' run aggregation site that plagiarizes material instead of writing their own.
Ethical Hacking Guide
An "ethical" hacking site that plagiarizes, and possibly profits of it.
iSOC India
The entire corporate site is plagiarized from other security companies.
---