Cat Power & Juliette Lewis
Concert: Denver Botanical Gardens Chatfield
2009-08-22
I'm back from seeing Cat Power and Juliette Lewis in concert. They were both opening acts for The Pretenders, but I skipped the main act. They performed at the Denver Botanical Gardens Chatfield location, in the open air amphitheater. Stock photo: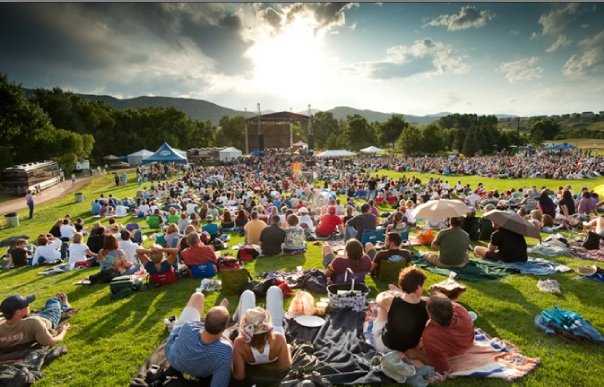 While a nice picture, it doesn't fully show the overall bad set up. While the summer heat is bearable, the music started at 4:00PM as the sun as beginning to set. By the second act, the sun was behind the stage bearing into the faces of everyone watching. Keeping a stage to the west, there should be a backdrop of some kind behind the stage. Not only did the sun take its toll on viewers, Juliette Lewis' drummer seemed like he was about to heat stroke out. Chan Marshall of Cat Power had to stop toward the end of her set to take a five minute break; a combination of the heat and altitude apparently had a bad effect.
Juliette Lewis was the first act. She took the stage with a lot of energy and jumped right into the first song with barely a 'hello'. Her set was about eight songs, all faster paced and more 'rock' which is her genre. While that is generally her style, as I have said before, I prefer her slower songs that let her better demonstrate her good voice without being buried in the accompanying music. Thinking back to her performance in Strange Days where she sang a version of "Rid of Me" fully shows off her sultry voice and style. Lewis clearly has the passion and I hope that she continues to develop and refine her style, hopefully leaning more toward the softer side.
Cat Power's set was longer, closer to twelve songs. For those not familiar with Chan Marshall, she has a distinct style and presence. Her show today seemed effortless, yet she let loose with her amazing voice and beautiful songs. Between songs she would wave to what seemed to be numerous friends attending the concert, or stop to thank the crowd for their applause and shouting. After her first few songs, Marshall livened up and appeared to get into the music more, dancing and moving to the lyrics. Until seeing her perform, I hadn't realized just how beautiful she is with very striking features. The voice, songs and looks are easy to obsess over.
Overall, the concert was enjoyable. Ideally, I'd rather attend that venue in the fall or spring and avoid the brutal sun. Since it is an open air venue that allows chairs, food and drink, most people setup for a picnic to enjoy the show. That allowed me to walk right up to the stage and enjoy both performances ten feet from the band. That proximity certainly adds a lot to the show.
---
Cat Power:
Juliette Lewis:
Like a Bolt of Lightning (2005)
---