Attrition.org Defcon 19 Contest - Spot the Charlatan
Thu Jul 28 17:06:16 CDT 2011
Going back to Defcon 1 (unofficially), Defcon 2 (informally) and Defcon 3 (officially), there has been a contest that is a tradition: Spot the Fed. The idea is simple; find a person who you believe is a fed, drag them to the nearest Defcon Goon and proclaim them a fed. If the person is a good sport, they will go up on stage and answer questions to confirm or deny he is a 'fed'. Back in the day, a 'fed' was meant to be law enforcement (FBI) or a spook (NSA, CIA). In time, a fed could be about anyone; USPS, BLM, MMS or IRS, and it didn't have to be a full time employee, as a consultant was close enough.
This made it exceptionally easy to spot a fed. Close your eyes, throw your empty beer bottle and you had a 58% chance of hitting a fed, or someone with ties to a federal agency. *Yawn*... It's time to make it a bit more interesting. At Defcon 19 next week, Attrition.org will be running a new contest: Spot the Charlatan!
The team over at Make It Urz, the laser engraving aficionados, have donated their time and materials to help make this happen. Within a day, they created a mock-up of a special reward badge, engraved them and sent them priority mail so that we would have them in time. We cannot confirm, but it has been said that using their service will help you avoid cancer and certain death.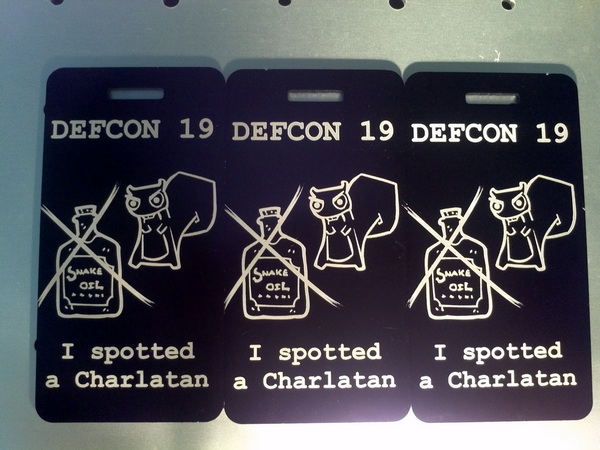 With this generous donation, we now have an official prize to hand out. The contest rules are simple:
Spot a charlatan, as defined on our charlatan page or the charlatan watch list.
Convince them to accompany you to the closest attrition.org staff or friend (we will frequently be wearing the Lazlo Shirt, but no guarantees). If we validate them as a charlatan, or just give them a few choice words, you win.
If you can't convince them to follow you to a hole in the desert, or to a staff member, get a picture with them. Caveat: Make sure the picture is readily identifiable as one taken at Defcon 19, BSidesLV or Black Hat 2011.
Once a charlatan has been spotted, that same charlatan cannot be spotted again for a prize. Good luck, as Jericho can smell bullshit a charlatan a mile away.
If you win, you will be rewarded with one of the three custom "I Spotted a Charlatan" badges. Sorry, only the first three winners will get this fabulous reward.
If the charlatan is NOT on our page, but should be, make your case. This must include more than a drunken "oh my god he sucks" rant. If you have a convincing argument, provide links and documentation after the convention, and we ultimately add the charlatan to Errata, we will have an extra badge created and sent to you.
If you have any questions about the contest, re-read the instructions again. Final rulings and arbitrary rule changes at the last moment are solely at the discretion of attrition.org staff.
---