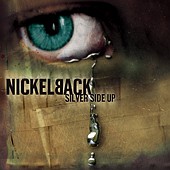 Nickelback
Silver Side Up
Let's see, where to begin.....ah yes, the reason I'm dragging myself out of the ashes and applying thoughts concerning a kick-ass band from Canada to a page for your viewing (dis)pleasure.
It's been quite awhile since my last review, so I'll attempt to keep this short for you 'attention impaired' viewers out there. Let's take a short journey down memory lane and reference the review I did concerning "Creed / Local H / Nickelback" performing live at The Key Arena -- Seattle, WA back in 2000/06 (-holy shit- it's been a while), click here if you'd like to see that concert review.
And I qoute:
Nickelback takes the stage. I had not heard of this band until this night....what a shame. Their set ripped. Kudos to the sound techs.....top notch guys. Now, finding out that these guys were from Vancouver, B.C, Canada was an even bigger surprise. I'm telling ya...there is some good music coming out of the Vancouver, B.C area. Keep those ears tuned in folks!!
So, after hearing the copious amounts of radio play these guys have received, I finally broke down and decided to go pay my respects to the band by purchasing their album, Silver Side Up.
Band Members:

Chad Kroeger -- lead vocals and guitars
Ryan Peake -- guitars and vocals
Mike Kroeger -- bass
Ryan "Nik" Vikedal -- drums
The track listing is as follows:

NEVER AGAIN
HOW YOU REMIND ME
WOKE UP THIS MORNING
TOO BAD
JUST FOR
HOLLYWOOD
MONEY BOUGHT
WHERE DO I HIDE
HANGNAIL
GOOD TIMES GONE
I'm glad to see these guys are finally getting to experience the spoils of their labors. I only mention this as when I cruised into the Tower Records to score this album, these guys are on the cover of GuitarOne. This, after reading an article in last month's High Times concerning the band's open view toward's -responsible- recreational drug use and how while on tour, these guys make a habit of purchasing a new water-pipe in each city they play in. Once the tour is over and the crews begin to part ways (which means Nickelback head back to grand-ol-Canada), they have a ritual smoke session (*grin*) and then distribute the water-pipes as gifts to the various new family members they've made while on tour. *thunderous_applauds_from_the_bleechers*
The tracks receiving the most radio coverage as of lately are HOW YOU REMIND ME and TOO BAD. Both are top-notch songs, but after picking up the album I have to ask the managers of this band why they didn't push to get NEVER AGAIN stuck into radio rotation. Now, for those of you that don't own this album yet, this song looks at an abusive relationship from a neighbors point of view. Which, is bad-ass in my humble opinion for these simple facts (excerpts of lyrics from NEVER AGAIN):
He's drunk again, it's time to fight
She must have done something wrong tonight
The living room becomes a boxing ring
It's time to run when you see him clenching his hands
She's just a woman... never again

Father's a name you haven't earned yet
You're just a child with a temper
Haven't you heard "don't hit a lady"
Kickin' your ass would be a pleasure

Now, add those lyrics to some amazing guitar work and a driving rhythm section...you've got one kick-ass song!
The only other song I'm going to mention, that hasn't received radio rotation as of -yet-, is MONEY BOUGHT. This song, from what I gather, is about those lovely little darlings that flock to rock concerts. Oh, you've seen them. Those little darlings that, upon first glance at their ensemble you think "all her looks by the book, best that money can buy" and then the thought that a "cherry stem in her mouth she could tie in a knot" would only drive those inner-thigh sweats your having right over the edge. *grin*
If your looking for a damn good rock album to waste away the weekends with....an album that cries to be cranked as loud as possible over your vehicle's sound system while enjoying a drive with the windows down; do yourself a favor and go plunk down twenty bucks at your local music store.
"Keep your mind open and let your soul listen to its surroundings." -- A.·.A.·. 3=8
---