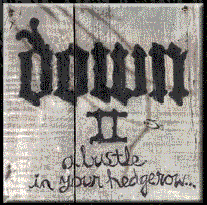 Welcome friend, it's been a while..hasn't it? Have a seat in front of these towering speakers and join me in listening to probably the most highly anticipated rock album in a few years. The band: Down. The album: II A Bustle In Your Hedgerow.
Down is consisted of the following southern-fried hell-mongers:
Phil Anselmo (Pantera,Necrophagia,Superjoin Ritual,Anal Cunt)
Pepper Keenan (Corrosion of Conformity)
Rex Brown (Pantera,Cole Brown,Tres Diablos)
Jimmy Bower (Eyehategod,Superjoint Ritual,Magickal Light)
Kirk Windstein (Crowbar)
Track listing for II A Bustle in Your Hedgerow:
Lysergik Funeral Procession
There's Something On My Side
The Man That Follows Hell
Stained Glass Cross
Ghosts Along The Mississippi
Learn From This Mistake
Beautifully Depressed
Where I'm Going
Doobinterlude
New Orleans Is A Dying Whore
The Seed
Lies, I Don't Know What They Say But...
Flambeux
Dog Tired
Landing On The Mountains Of Meggido
The CD opens with LYSERGIK FUNERAL PROCESSION, the swirls of a growling bass line greet you with the brutal throat killing growl of Phil's voice driving you.... then, the build......the boiling energy explodes into the riffs of the lead guitar then into trance like states of head banging and fist pounding. This is -ROCK- ladies and gentleman. Oh no...make no mistake...these metal veterans have thrown down the gauntlet for the music industry and the record executives had better take heed.
Then,...oh shit...the thundering bass on THERE'S SOMETHING ON MY SIDE. This song.... two minutes into it...you find yourself checking the cd player to see if your on the next song. Oh lord, time changes and rhythm blends during songs......then using Phil's voice to ride back into the riff filled chaos. GAWD DAMN! At this point, realizing that these guys did this album in 28 days, it's just almost mind blowing. 28 days folks. Not in a cushy studio with mixers and digital monitors. HELL NO! Just them, a barn, rented equipment dating back to 1932 (a 1932 National) and plenty of booze while tucked away deep in a southern Louisiana swamp.
Enter song # 4, STAINED GLASS CROSS. The slow blue-sy guitar leads you into melodies of old that has an old church organ humming the riffs alternately with the guitar. This song, it just sounds like something you'd hear at a southern black-mass picnic. You know, deep swamp BBQ's and some wild ass times that are ravenous with debauchery and nights filled with gluttonous sexual desires. The church organ solo, oh fuck...just let go and let it take hold of your head for a moment....swaying it left...swaying it right. -YES-! Finally, an album that our generation has to hang on the walls of rock history. Those before us, stoney rockers from the '70s, had their Black Sabbath, their Led Zeppelin. Those rock albums of old that were written from the soul, just friends hanging out together and creating the music they grew up on. The basics, the driving force of rock; to be free.
I choose not to write anything about song # 6 ,LEARN FROM THIS MISTAKE, out of respect for the singer and the meanings of this song that I -myself- have deciphered and can personally relate to.
These lyrics say it all:
"It's the art of the process,
that kills off all the rebels;
that's me."
Listening to this album, you might find yourself wanting to thank these artists for producing such a masterpiece during this time in our lifes. The tragedies and continuous amounts of unwarranted states of alert spewed by our -elected- officials compel us to find a song on this album to relate to, to become one with, listen......there's one on here for each of us
Song # 8, WHERE I'M GOING, has PEPPER playing that '32 National in peak performance as an old southern-fried blues melody that will compel you to bellow out in unison with the lyrics as if they were sacred verses of your life's history. Phil is showing a side of his musical abilities that, I know for myself at least, many fans have been wanting for some time now. We've heard a glimpse of his talent from DOWN:NOLA, PANTERA:COWBOYS FROM HELL and some more I just can't think of right now, but damn if he doesn't just grab a hold of you by the skull and float your ass through the song.
Song # 9, DOOBINTERLUDE, hey...every good rock album needs a song you can roll a smoke to. Enough said.
The intro of song # 11, THE SEED, has...I think Phil saying "The power of the riff compels me...", not sure on this one. This song, if played for the masses and actually laid out in the simplest..most common terms of what the healing power, not just physically but mentally for millions of people world-wide, of cannabis; it would cease this insane battle with our -elected- officials against a plant able to be harvested in more ways than most food crops and provides more economical uses to the public. Marijuana folks, let's stop this madness now.
# 12, LIES, is just another beautiful southern-blues masterpiece. Nuff said.
When the intro of FLAMBEUX boasts someone screaming "Which one of ya'll motherfuckers drank all my fucking kool-aid?!", you know your in for some fun after hearing that. This is them jamming..... just friends hanging out and doing what they love.
I'll leave you to finish out the album friend, hope you enjoyed this as much as I.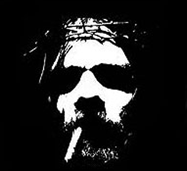 ---
Sources of information for review:
Down Biography on Elektra's site
Metal Edge 2002: May '02 Issue
"When did the truth cease to seen as paramount?" A.·.A.·. 3=8
---