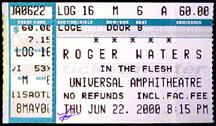 Review : Roger Waters: In the Flesh
Event : First concert under his own name in 12 years.
Venue : Universal Amphitheather, Universal City, CA
Date : June 22, 2000
Today's average concert-goer may typically ask "Roger Who?" when that name is brought up. However, seasoned Pink Floyd fans know all too well that this name can be the only answer to the canonical question, "Which one's Pink?"
For those who aren't familiar with the Floyd legacy, Roger Waters was the primary source of what made the Floyd a truly Great Band. Waters' departure from the Floyd in the 1980s (and David Gilmour's subsequent acquisition and annihilation of the good Floyd name) stands as a stark testament to this assertion.
When I heard that the concert was coming to town, I could scarcely contain myself. I'd been raised on a steady diet of Pink Floyd since my pre-teen years. I'd grown up listening to "Dark Side of the Moon," "Wish You Were Here," "Animals," and -- of course -- "The Wall." I was also a long-standing fan of Waters' solo works ranging from "The Pros and Cons of Hitchhiking," "Radio K.A.O.S." (his best work, IMHO), and "Amused to Death." Tickets for the concert were a bit steep for cost, but nothing was going to deter me from seeing the man whose lyrics had for so long spoke directly to me in a way no other lyricist had.
It's been my belief that only the Great Artists can do a concert with no opening act. This was no exception as Waters and his band took the stage with only a perfunctory introduction from Jim Ladd (who was featured on "Radio K.A.O.S."). When Waters opened the show with a thunderous rendition of "In the Flesh" from "The Wall," everyone was on their feet. True to form, Waters made the song a spectacular event in and of itself. As he sung, "Now there's one in the spotlight, he don't look right to me," the light crew did a well-choreographed survey of the audience. The people in attendance ate it up.
As the band went on to play many other songs ranging from very early Floyd ("Set the Controls for the Heart of the Sun") to selections from Waters' latest work ("The Bravery of Being Out of Range" and "Perfect Sense" from "Amused to Death"), the change in Waters was apparent. His performances were given with distinct feeling and, IMHO, one helluva lot of soul. The performance of "Shine on You Crazy Diamond" from "Wish You Were Here" was a plainly heartfelt tribute to original Floyd member, Syd Barrett. Waters wasn't simply repeating the words to a song penned over 25 years ago, he was passionately beseeching his long-lost friend to come out of his shell and rejoin the world.
Waters also gave a rare display of his sense of humor during the concert presentation of "Dogs" from "Animals." Those who know the song well are all too familar with the length of many of its fugues. During the synthesizer fugue which follows the line "Dragged down by the stone," Waters and many of his ensemble set down their instruments and walked over to a table in the center of the stage where they casually went about playing cards and having a few drinks while two members remained on the keys to play out the song's passage. I found this not only amusing, but quite refreshing. It's not often that one gets the opportunity to see a "rock star" doing anything but acting like a rock star. Here, in that moment, we got to see Roger Waters as just another guy who enjoys having a beer and shuffling the deck with a few close friends. Many may have missed the significance of this. I personally loved it.
About the only disappointment in the concert was the utter lack of any songs from "Radio K.A.O.S." (again, Waters' finest solo work, IMHO). I'd have loved to see the same power of performance given to songs such as "The Powers That Be" and "The Tide is Turning." Ah well, every masterpiece has its flaws.
As an aside, I have to comment that Waters did a superior job of selecting his band for the performance. The guitar work of Doyle Bramhall, Jr. was definitely on par with early David Gilmour and very much in keeping with many a song's live interpretation. Andy Fairweather Low also did a fine job in his renditions of many songs, as did Snowy White and Jon Carin in their various capacities. Graham Broad's drum work met and often surpassed even the more challenging work of the Floyd's Nick Mason, too. And the Floyd's Rick Wright has nothing on Andy Wallace when it comes to keyboards, I'll tell you that. And I would be remiss not to compliment the trio of female vocalists who added their own flair to the songs: a special tip of the hat to PP Arnold, Katie Kissoon and Susannah Melvoin. Excellent work, ladies!
In closing, as Waters performed his encore, he mentioned that he'd been away from touring for as long as he had because he'd felt a distance between himself and his fans. That distance was remarkably absent, and he stated as much, saying he felt the concert was a very personal event and he was thankful for that. (I personally remember a time (circa the "Animals" tour) when Waters spat on a fan in disgust. At this concert, he actually paused to shake hands and smile at the people who stood near the stage.) Seems that the time away from touring has taken the edge off the stress without taking the edge off the talent.
With any luck, we'll be seeing more of "Old Pink" in the future. I for one welcome it.
"In the Flesh" Tour Information:
http://www.roger-waters.com/
---