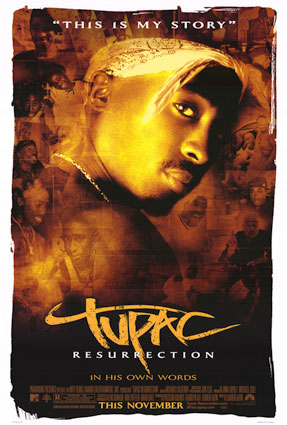 Tupac: Resurrection
2003
Did Tupac really die, or did he transform into his alter-ego character 'Makaveli' and fake his death and is alive somewhere living off of his disappeared fortune? Not since the death of Elvis Presley have the conspiracy theories and stories surrounding a musicianís death been so prevalent. The biographical documentary Tupac Resurrection doesnít address this theory, but it does chronicle the late artist's life from his birth in a New York prison and his school years and childhood in Baltimore, to his rise to superstardom in California, and his tragic and untimely death in Las Vegas.
Resurrection is a candid and open look at Tupacís life and how he rose to become a project poet and thug thespian. The film neither glorifies nor vilifies Tupacís life, and like Wuornos in Monster, the lead character narrates from beyond. The film is a exceptional collage of photographs, videos, movie clips, and interview footage of Shakurís, family, friends, colleagues, and foes who give us an intimate look at this promising and problematic young man. We see a progression in Shakur, and sometimes itís pleasant and sometimes itís appalling. The film simply presents the facts and allows the viewer to shape or reshape whatever image or opinion they may have of him. Tupac has been called many things, from prodigy to punk, virtuoso to villain, and we get to hear what others say to and about him.
The movie addresses Tupacís incarceration and other legal scrapes, and he speaks at length about them and how they forged him as both an artist and a person. Of course the documentary would not be complete if it didnít take up the beef between Tupac and Biggie Smalls aka the Notorious B.I.G. While you might expect the movie to spend a significant amount of time with this issue, it only briefly touches upon the subject, and in a surprisingly objective and unbiased manner.
Tupac Resurrection is produced by Afeni Shakur, Tupacís mother who is profiled through the eyes of her son in this work and at one point that view is a wretched one. Ms. Shakur depicts herself as the miserable crack addicted woman she once was but like the silhouette of her son's life, she dons neither a halo nor horns. In her role as producer, she gives extraordinary sight into his world, emotions, and thoughts with this collection of footage in a way that only a motherís love and discernment could portray. It is a fitting tribute to the life and talents of her son.
Perhaps Tupac is still alive. Perhaps he took a page from Machiavelliís classic tale and orchestrated his own demise to escape his enemies. I donít know, or even care for that matter. Perhaps he and Elvis are sitting on some tropical beach having a good laugh and enjoying their exile from fame. Or perhaps things are really just the way they happened.
Grade: A
Note: Tupac adapted the name Makaveli after reading "The Prince" and "The Art of War", both by Niccolo Machiavelli, several times while he was in prison. Coincidentally, the circumstances surrounding his death share many similarities with the latter work.
Czarina's Caustic Comment or Captious Compliment: This documentary resurrects both good and bad memories of Tupac.
---
Buy Posters at AllPosters.com
Internet Movie Database Listing
---