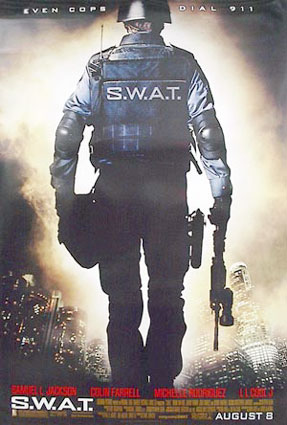 S.W.A.T.
2003
I didn't think that I would enjoy this movie as much as I did. For some reason I just didn't see this movie being credible, but it seemed to work out. This is probably one of the best cop action movies released for quite some time, a rejuvenation of the genre, which has been plagued by the likes of Dark Blue in recent memory. You had real, developed characters, with credible discourse and action. The plot is far from involved, but the vigorous pace and execution thereof makes the movie entertaining.
The movie opens with a hostage situation that requires the LAPD's Special Weapons And Tactics (S.W.A.T.) unit's intervention, an elite component within L.A.'s finest. Partners and friends Jim Street (Colin Farrell) and Brian Gamble (Jeremy Renner: Dahmer) take it upon themselves to use their own special tactics, which results in the neutralization of the perpetrators, but also the injury of a hostage. The two are swiftly removed from the unit, and part ways acrimoniously. Believing what he did was right, Gamble quits the force, but Street, wishing a second chance, chooses to remain on the force in a demoted status.
In comes Sgt. Hondo Harrelson (Samuel L. Jackson), and "old skool" S.W.A.T. member who is tapped to help refresh the tattered image of the LAPD S.W.A.T. Sensing the hunger and natural faculty for the job, Hondo picks Street for his squad, along with a few other candidates who don't bode well with the Chief. The group is expected to fail their test, but proves resilient and they are assigned a high profile job, to escort an international fugitive (Oliver Martinez: Unfaithful) to a supermax in the desert. The snag comes when their billionaire charge offers $100 million to whoever can break him out of jail. Now the team has to deal with every criminal in the San Fernando Valley wanting the "reward", trying to spring the captive. Needless to say, the next action-packed 45 minutes exhibit the manner in which this is accomplished. This twist doesn't occur until halfway into the movie, as the earlier half is spent getting acquainted with the characters --learning their backgrounds and ambitions.
We get to spend time with each individual character as Hondo mulls them over for his lineup, which shapes how they deal with the problematic task of transferring the prisoner in their custody. Here we meet officers, Deke Kay: (James T. Smith aka LL Cool J), Chris Sanchez: (Michelle Rodriguez: The Fast & The Furious), T.J. McCabe: (Josh Charles: Dead Poets Society) and Michael Boxer: (Brian Van Holt: Basic, Black Hawk Down). Together they not only form a top notch, battle tested lineup, but a family.
One of the reasons this movie worked was the presence of Samuel L. Jackson, his assured screen presence and bona fide acting are what sets him apart from most actors. The dynamic Farrell was an admirable selection as the committed but tarnished Street. Farrell illustrates in this film, as well as Phone Booth, why his star is on the rise (and he's not bad looking either). What's more of note is the casting of Michelle Rodriguez. I have always been a proponent of this remarkable actress since I saw her in the under recognized Girlfight. Had she been cast as Max in "Dark Angel" the show might still be in production. Always effective at playing a bad ass, she proves that she can hang with the guys round for round; perhaps not always a Lady, but definitely always a Woman. The remainder of the cast, while effectual, is nothing significant.
The movie does have some shortcomings with its dialogue, exploitation of every cop banality, and a couple other side plots that could have been cut. Nevertheless it is good entertainment, and one of the better movies released this summer.
Grade: A
Notes: Action scenes are realistic and grounded.
Czarina's Caustic Comment or Captious Compliment: Colin can swat my ass anytime.
---
Buy Posters at AllPosters.com
Internet Movie Database Listing
---