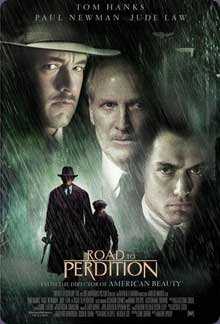 Road To Perdition
2002
per·di·tion (noun) 1. 
			a. Loss of the soul; eternal damnation. 
		   	b. Hell

I am not a Tom Hanks fan, and usually I avoid his movies, as they tend to be overrated and too feel-goody for me. Road To Perdition, however, is neither a feel good nor a horror movie. It is a mob movie, but not the kind you'd expect. The story is about Michael Sullivan (Hanks), ideal father by day, mob hit man by night. He is doesn't kill out of pleasure, but out of duty and gratitude to his boss, John Rooney (Paul Newman), for providing him with a secure and comfortable life. One dark and stormy night, Sullivan's older son Michael Jr. (Tyler Hoechlin) goes on a secret ride-a-long and witnesses dad in action. He is sworn to secrecy, but Rooney's son (Daniel Craig), won't take any chances and wacks Sullivan's wife and younger child. Bent on revenge and protecting his Jr's life, Sullivan goes on the road, but on his heels is wetboy/photographer Harlen Maguire (Jude Law).
You are transported to Capone's depression-era Chicago via stunning photography, which is authentically representational. The set and costume design are formidable and arguably the best the industry has seen for some time. Additionally, the use of shadows and darkness in this film are deftly and potently used, underscoring mood. Many characters hide, emerge, and live in the shadows -- rain and sun are used at key moments within the film. Conjointly there is a superb score by composer Thomas Newman that permeates each scene, but during the climatic scene of a machine gun massacre in the pouring rain, the arias fall mute. It is very powerful.
There are biblical references here in the movie, as Sullivan is on both a literal and spiritual road to perdition. There is of course the primary plot of father and sons, blood being thicker than water, and loyalties and the ties that bind. Each father in the story want to protect his son, and each son in the story only wants his father's approval.
The movie was well acted and none of the actors were over-beautified; even the handsome Jude Law managed to look ghoulish to appear true to his part. Tom Hank's upper-lip seemed a nesting ground for a butterfly's larval stage, and that nose putty he was forced to use was equally goofy. Paul Newman looked distinguished and there is no reason that we should expect anything less.
I applaud this effort by Sam Mendes (American Beauty), who shows that it is indeed possible to still make an extraordinary movie, perhaps pointing out the bar that the big studios seem to be ignoring. As I stated before, I am not a Tom Hanks enthusiast (actually he annoys me), and this film somehow wound up in my Netflix queue, but regardless of my feelings towards Hanks, this is a film is to be seen, discussed, and appreciated for the terrific work it is.
Grade: A
Notes: Remarkable photography; true-to-life 1930's Chicago skyline
Czarina's Caustic Comment or Captious Compliment: This road to perdition was paved with a good intentions.
---
Internet Movie Database Listing
---