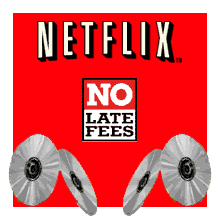 Is Netflix All That?
November 2003
You've seen the comical ads on TV, you've picked up the ticket-stub shaped flyers in Best Buy, and you probably already know a friend, relative or co-worker who uses it. What I am talking about is Netflix, the DVD-by-mail order service where you can "Rent up to 3 DVD's at a time for $20.00 a month, keep them as long as you want, no late fees, ever !!" This part is true, however, Netflix is not as great at the ads make it out to be.

I subscribed to Netflix over a year ago and was immediately impressed with the quantity of movies and the quality of the service. I found out there was a distribution center 45 minutes away from my house, so shipping would be a next day turnaround. In fact, I was amazed when I got an email with a TDS of 8:00am notifying me that Netflix had received a movie that I'd sent back 8:00pm the night earlier, via regular mail. Two hours later, I got another e-mail stating that the next movie in my queue would be shipped that afternoon, --and there it was in my mailbox by noon the following day. I thought that Netflix was all that, and then some. During the ensuing weeks I incessantly raved to Jericho about how wonderful Netflix was and nagged him to sign up for the service himself and get Attrition listed as a referrer. He refused to sign up; citing that going to the mailbox would expose him to excessive sunlight, but he did agree to sign up the site as a referrer, which I will talk about later.

For the next 3 months I was in total bliss with the service. I was getting a new movie every day to every other day, depending on when I watched them, but I did not go more than 2 days without a little red envelope in my mailbox. -- Then I began to notice that my early morning receipt notices were coming in the afternoon and the next available movie was being shipped the following morning. This didn't slow me down much, but a few weeks later, the movies were taking an extra day to ship, arrive, and acknowledge. Then I observed that despite my normal shipping habits and attempts to time the turnaround, some movies weren't shipped out to me until Friday or Saturday afternoon (meaning I wouldn't get them until Monday or Tuesday) and movies I returned on a Thursday or Friday, weren't confirmed until late Saturday or sometimes even Monday morning. Now, just so you're with me, neither I nor the distribution center changed locations, yet the shipping time seemed to have doubled and even tripled after about 10 months into the service.

Sadly, that isn't the only "fluke". I would sometimes return two movies at once, but one movie would be confirmed in the morning and the other in the evening, or the next day. Then on one occasion, I simultaneously returned two disks (in the same mailbox) one of which was received the next day, but the other disk never arrived. As of this writing, I am doing the math on three movies I recently returned: "A Man Apart" was returned on 30 October, "Catch Me if You Can" on 31 October, and "28 Days Later" on 1 November. An 8:00am e-mail this morning confirmed the receipt of the last two, but "A Man Apart" has not yet been confirmed*. If a disk is not received either by the customer or Netflix within 6 days of the shipping date, the customer can "Report a Shipping Problem", however, if Netflix believes that the renter reports an excessive number of disks missing in a certain timeframe (which is up to their discretion), then the customer's account is charged for that disk, which can be as much as $30. Of course we all know that DVD's run new about $17, and previously viewed copies can go for as little as $7. So why does Netflix want to charge you 2-4 times the markup for a disk that has in all likelihood been viewed previously?

It took me several months to experience the poor customer service that Netflix is rumored to have for their older customers, especially those like me who tend to receive and return 3-5 movies per week. Since they pay for shipping both ways, at that rate, half the standard membership fee is eaten up in shipping cost alone. So, it makes sense to lengthen the turnaround time for movies to lower that overhead. Jericho however, got to experience their service (or lack thereof) first hand on his initial dealings with the company. While trying to set up the referrer plan membership, he encountered technical difficulties which were clearly on Netflix's end. After trying repeatedly to contact them, Netflix finally responded that the problem was on his end, and not with them. Again, after subsequent attempts to fix their technical problem and get guidance from the company, neither of which worked, he gave up. I'm no businesswoman but I know that's not the way to treat a potential client or business partner.

Now, is Netflix any good? It can be, however, you have to know how to "work the system" and for some people, that is just too much work to rent movies. In order to get the value equivalent to a B&M video store, you have to view and return at least 5 DVD's or more per month. This can be easily done, depending on your location and the types of movies you request. Although I have not experienced it myself, many customers complain about the availability of new releases, stating they have to wait days or weeks before Netflix has a recently released selection to ship. There have been reports that Netflix gives priority to new releases to newer customers, something that the company denies. I've had a few new movies listed as having a "short wait" but only for a couple days after release. For the most part, the newer movies I've requested are usually available, but it seems they take longer than they should to get to me in the mail.

In order to get a better grade of service, they will frequently request that you upgrade your service; e.g. 5 DVD's for $30 or 8 for $40. Ummm.....no. Why give them more money to slow down more DVD's? In order for the upgrade to be worth it, you will still have to process a certain number of disks per month, which will cause the service to slow down again, but now you'll pay more for the priviledge. Moreover, if you see fewer than 5-7 movies per month (depending on your plan), you're paying more per movie than you would if you'd rented them at a store. There is an economy plan (4 disks per month for $13.95), but Netflix hardly ever promotes that. Many customers don't even know about it.

OK, to be fair, there are some pure benefits to having a Netflix subscription, such as the number of titles, which currently number 15,000+. That is more than what you will find at the local video store (or non-local store for that matter). This can be a compelling point for people (myself included) who enjoy foreign, older, or independent films. For the New Year, I resolved to see the AFI's 100 Greatest Films, even though this would not only be time consuming (finding and watching the movies), but expensive as well. (I'd still be paying $3-$4 for these "classics"). Most people balk at having to pay the same price for an older move as they would for a newer one. However, Netflix has these movies centrally located (they have compiled a feature dedicated to the AFI's 100) and I couldn't rent them cheaper retail. The same with foreign and Indie movies, which even if you found a place that carried them, would be limited in selection, therefore requiring you to either search for them, or forego seeing them. The company's foreign language selection is impressive, extending beyond Spanish and French, to Arabic, Hindi, Urdu, Persian, Chinese, and Russian, and even Polish films. Netflix also has a decent category of Independent movies, which helped me to discover and enjoy this underappreciated class of film. And I'd be remiss if I didn't state that they carry a fair selection of concerts, music videos, documentaries, anime, and TV shows. This can come in handy for people who've discovered a TV show in its 3rd Season and want to catch up on the previous two, but who don't necessarily want to wait for syndication or to buy the boxed set.

Will I stay with Netflix? I don't know. The service is becoming progressively and suspiciously slower and my movies are turning up MIA. I do like the selection, but that sole benefit is not enough to outweigh the downturn of service, especially when I know that they can do better. What Netflix needs, and I hear they are soon to be getting, is competition. Walmart is offering a mail order DVD rental service that is similar to Netflix, at a slightly lower price. (3 disks for $18.76 or 4 disks for $21.94), which may be a persuasive reason to switch. However, let me caution that it's still in its infancy and only has 7 shipping centers (Netflix has 20), but they could expand their shipping operations to their existing retail locations. Until then, Wal-Mart's limited shipping adds a considerable amount of wait time, and new releases are hard to come by (but they do have hentai anime). Blockbuster's answer is Film Caddy which charges $19.95, and ships from Arizona. They have little in the way of anime and only 1 rental plan.

Well, I don't know what my future with Netflix will be (especially if they try to charge me 30 bucks for a flick I returned (and didn't even like)). What I do know is that eventually their poor customer service will catch up with them, and with the prospective competition and dawning of electronic movie distribution, Netflix may just flicker off the net.

*Note: Netflix did notify me that they received "A Man Apart". (It took 6 days to "arrive". The distribution center I returned it to is located 33 miles from my home).

Czarina

Grade: A for selection. C- for service.

Czarina'a Caustic Comment or Captious Compliment: Netflix ain't all that.
---
---