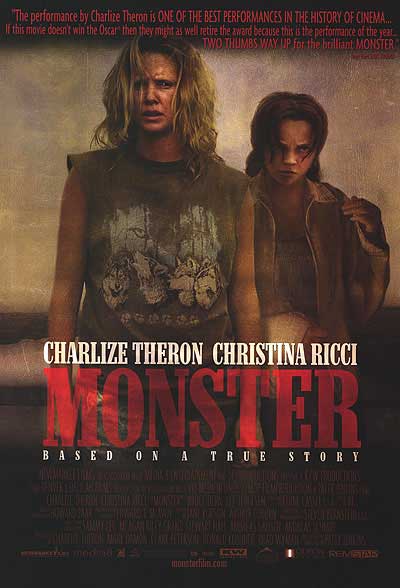 Monster
2003
Like Nicole Kidman, Charlize Theron has come quite a long ways as an actress recently. Her roles have gotten better, her ability has gotten better, and nowhere is that more evident than her recently winning an Academy Award for her role as Aileen Wuornos in Monster. Theron doesn't just play Wuornos, rather she becomes her in body and in spirit. In fact, when I first saw her character, I didn't even know that she was behind the make up and the 30 pounds of heft that she gained for the role. Her performance as Aileen Wuornos, a Florida highway hooker who was executed for murdering 7 people in the late 1980's, was flawless, convincing, and riveting. Everything from her body movements, to her attitude, to they way she smoked her cigarettes reminded you of the lot lizards you see at trucker rest stops—she oozed the white trash persona.
Monster is a gritty, hard, bio-pic of Wuornos, who was billed as "America's Fist Female Serial Killer". Aileen, a down-trodden woman, only wanted a better life than what destiny had intended for her. Not once does she ever apologize for the killings, and upon her conviction, was not at all remorseful for her deeds, even as she was led to the death chamber in 2002. However, don't be surprised if you find yourself feeling sorry for her and having pity for the difficult life she's had. All she ever wanted was to be loved and to be more than what she was, and unfortunately she never got that wish.
With her girlfriend Selby Wall (the terribly underrated Christina Ricci) at her side, Wuornos travels up and down the Florida freeways living in motels, with Wuornos supporting them by prostituting. Selby, who is seemingly innocent, is quietly manipulative as she does nothing but take from Wuornos, and eventually becomes her downfall. While you think that Selby is just an innocent girl led astray, Ricci masterfully portrays her as a cunning woman with a hidden agenda.
The transformation from Charlize Theron from a sleek blonde bombshell to an ugly, worn out strumpet is absolutely worth mentioning, especially with her looks from The Italian Job freshly on people's minds. The film's make-up department (Toni G, Lee Grimes, Art Sakamoto, and Kathe Swanson), deserve special note for their efforts.
The movie hides nothing, and director Patty Jenkins, who spent a great deal of time with Wuornos while she was on Death Row, shows each murder in plain view, including a very full scene of Wuornos being attacked by a greasy slime ball, and setting her on a murderous path. (I secretly cheered for her when she gained control and blew him away.) We learn of her terrible childhood and wretched events of her life. Monster is brutally honest, and it makes us look at a darker side of the human condition that we like to turn away from.
She is not a total victim; however, she still made these choices in life, and even when she could have taken the high road, she chose not to. One scene shows her cursing out and trashing the office of a potential employer who wouldn't give her a job, and towards the end of the movie, she kills someone who not only doesn't mistreat her, but had the earnest intentions of helping her out. When you see her lash out at innocent victims, you can't feel sorry for her, but the movie presents you several opportunites to pity her situation, if not her entirely.
Oddly, Theron took home the Oscar on February 29, 2004—Wuornos' birthday. Aileen Wuornos stated that she always wanted to be in a movie… well now she is, narrating it from the afterlife, even. Although I am certain that Wuornos was watching Theron as she walked along the red carpet, my question is, was she looking down, or looking up?
Grade: A
Notes: Ricci gives one of her best performances to date in this film.
Czarina's Caustic Comment or Captious Compliment: This film is monstrously fascinating and well worth a viewing.
---
Internet Movie Database Listing
---