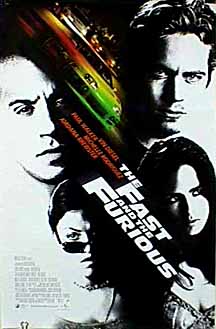 The Fast and The Furious
2001
The name says it all. This movie was a thrill to watch from the first minute to the last, and is the wet dream and fantasy of every rice boy out there. It is jam packed with sound, action, drama, and suspense, as well as killer cars and pretty women. The Fast and the Furious delivers what you'd expect out of an action film with speed, adrenaline, and testosterone. Here is a look into the underground street racing culture. Several people who saw the trailers said they found it far-fetched that a movie about street racing could have not only a convincing plot, but well-developed characters. In addition, this flick has some turbo charged car chases and races that will leave you breathless. Unlike Gone in 60 Seconds this movie has a plot to go with the action.
The story is about an undercover cop, Brian (Paul Walker), who is out to bust a ring of street racers who hijack trucks. He starts by gaining the friendship of Dominic Toretto, (the hunky Vin Diesel), a car shop owner and L.A.'s premier street racer, who is the key to cracking the case. The problem for Brian is that he becomes smitten with Dominic's sister, Mia (Jordana Brewster). He also runs into problems with Vince (Matt Schulze: Blade) a member of the racing team led by Dominic, which also include his bad-ass girlfriend, Letty (Michelle Rodriguez: Girlfight). She can race with the best of them, hold her own under the hood, and abhors the abundant scene throwing themselves at her man. I really like that as the protagonist of the film, Dominic, got the character development he deserved and you understand his motives for doing things.
Now, there a couple things that detract, just a little bit, from the movie. During the commandeering of the trucks (which are moving by the way), there appears to be no other traffic on the highway (Did I mention the setting is Los Angeles?) --just the trucks and the Honda coupes driven by the thieves. I own a Honda and I assure you that no matter how good of a driver you may be, this car is not what you would use to play chicken with an 18 wheeler. Also, Brian dating the sister of a guy that he is investigating was not the thing that one would do in a case that was set to make or break one's career.
This movie doesn't have much intellectual substance; it is about good-looking people driving good-looking cars. However there is a strong theme of family loyalty in this film, which all characters find themselves struggling with at some point. Other than that, this is just a movie to quicken your pulse, take your breath away, and make you salivate. This movie is also set to a slamming soundtrack, which just heightens the excitement of the scenes.
Billz Movie Worthiness Scale: A

Billz Movie Worthiness Scale Values:
A = movie tickets and popcorn for 2 (about $40)
B =buy the DVD when it comes out ($25)
C = rent it
D = wait for it to be on cable/pay TV
E = wait for it to be on regular TV
---
Order from Amazon
Buy Posters at AllPosters.com
Internet Movie Database Listing
---