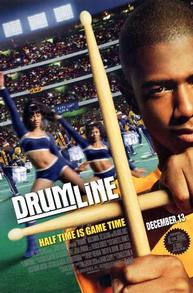 Drumline
2002
"Half-time is game time", quips a minor character in Drumline, a movie centered on the intense competition and pageantry of the Marching Bands of the Historically Black Colleges and Universities of the South. The marching bands set the framework for Drumline a movie about a gifted, yet cocky young drummer who realizes that it takes more than talent to succeed.
Set in Atlanta, at the fictitious Atlanta A&T University, we meet Devon Miles (Nickelodeon's Nick Cannon) a young street drummer from Harlem who gets a full scholarship to play in the school's marching band. He turns out to be the best asset on the drumline, but he's also a prima donna, and he tangles early and heatedly with his section leader, Sean (Buffy's Leonard Roberts), an upper-classman who's dedicated 3 years to the drumline and doesn't want Devon to warp the harmony. To add to the tension between the two, Devon upstages Sean on a couple of occasions, and becomes the favorite of the Dean, but not of his besieged band director Dr. Lee (Orlando Jones: Mad TV, The Time Machine). The band director of neighboring school and competition rival, Morris Brown University, also notices his talents, and antics. Morris Brown has been mopping the floor with A&T for the past few years at the BET Southern Classic, an annual competition for HBCU marching bands.
This movie has a unsurprising, and fairly predictable line, almost of a Tom Cruise in Top Gun way. There is a cocky hot-shot, a rival who he's showing up, the wise mentor/teacher/father figure, the love interest, and a defining moment in the main character's life after which he realizes and redeems himself and learns the value of teamwork and putting others before himself, and he and his rival become allies, thus saving the day. While the storyline is formula, other aspects of the movie are not.
Although there is the cliché of the young inner city youth, born into adversity to a single mother and an absentee father, what you don't get is the defeatism found in movies centering on young Black men. While we learn about Devon's upbringing early on, we are also informed that he's not been to jail or spawned numerous bastards. He appreciates and acknowledges his mother's efforts and knows that he wouldn't be successful without her.
Naturally, there are several rivalries in this film; the foremost is that between Devon and Sean, which is set against the backdrop of the A&T and MBC. The pair does everything they can to hurt and humiliate one another, but in the process they ends up hurting the band. This of course resolves at the end of the movie, but what it precipitates is the spectacular drum battle that is the focus of the climax. The movie's highlight of course is the band performances, which showcases some of the best bands (Grambling, Morris Brown, Clark-Atlanta, and Bethuene-Cookman).
Drumline was well written, well cast, and well acted. I particularly liked Orland Jones who effectively played the serious and brooding Dr. Lee. His performance stands in stark contrast to his "7-UP yours" commercials and demonstrates his talents and versatility as an actor. Nick Cannon, known to pint-sized viewers from his Nickelodeon days, gave a worthy portrayal as the arrogant Devon. Cannon was up against several big-named actors for this part, and from his performance, one can agree that he was a good choice for the lead role.
Don't think that Drumline is just a collection of band performances broken up by perfunctory dialogue, because it is not. The movie has a good plot, cast, and soundtrack, and don't worry about being lost in "the Black thing" either. It's hip enough for your young adult, but oddly enough it's family friendly too. Of course I could be biased being from the South and fan of Grambling.
Grade: A
Notes: Depsite the depiction, Morris Brown College as well as other HBCU marching bands have a broad classical selection in their repertoire.
Czarina's Caustic Comment or Captious Compliment: Drumline rocks. If you ever get a chance to see a HBCU marching band, I suggest you do.
---
Internet Movie Database Listing
---