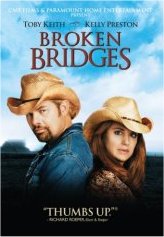 Broken Bridges
2006
Over the weekend, we rented Broken Bridges. Former high school sweethearts, Bo Price (Toby Keith), a fading country music singer, and Angela Denton (Kelly Preston), a television reporter, return to their small hometown after the deaths of their younger brothers in a military training exercise. Bo and Angela have to deal with the past and the future. Bo also meets his 16-year-old daughter for the first time played by Lindsey Haun.
The movie is one of my favorites and I've already ordered a copy of it from Blockbuster when they sell used DVD's. Some of the music in the movie is just something that I can't explain. That's a good thing. Lindsey has such a great voice and sings a song called Broken at the end of the movie that had tears coming to everyone in the room watching the movie.
The acting in this movie is not the best I've seen but it's not the worst that I've ever seen. Toby Keith really showed me something that I wasn't expecting with his acting. I guess that had something to do with some of the singers that I've seen that's tried to act and it really didn't turn out that good. Besides that, I was really happy with the location and and plot of the movie. The music and background is what really made this movie for me. Burt Reynolds and Kelly Preston helped this movie with their presence in it. At the end of the movie when they are both watching Dixie sing Broken is what really brings a tear to anyone's eye.
I just could see myself living in that type of town with no problems whatsoever. I'll live in that type of town before I die. I truly believe that every city girl should see the country like that and see that it's not all about the fancy clothes, makeup, and designer bags. It's about being happy and smelling the fresh air that you'll NEVER find in any city.
As I was watching the movie, I started thinking about some of the things in my life that I could relate to and some broken bridges that are part of my life. This is one movie that I HIGHLY recommend that you go out and rent or even purchase. I know I still haven't got tired of watching it and listening to the music in the movie. It's one that you can take your kids to and not worry about sex or drugs being shown throughout the movie.
---
Internet Movie Database Listing
---