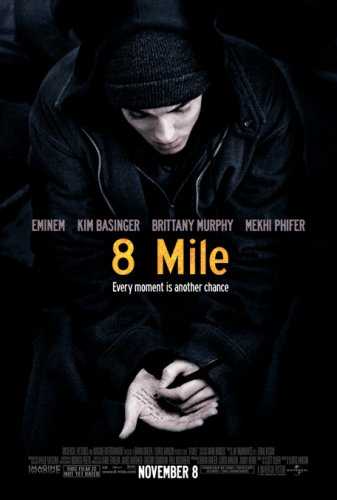 8 Mile
2002
8 Mile is a raw, gritty, semi-autobiographical movie starring controversial rapper Eminem. Unlike the hip-hop/rap movies of the 80's like Krush Groove, this movie has substance, and is not just a cinematic music showcase. Like other movies of this ilk, it deals with a guy trying to make it big and abandon his impoverished lifestyle through music, but surprisingly this is not a rags-to-riches story.
Eminem plays aspiring rapper Jimmy "Rabbit" Smith, a piece of white trash living in a trailer park on the outskirts of Detroit. 8 Mile Road is the Line of Demarcation between Detroit City (Blacks) and the Suburbs (Whites); the tracks that split into the right and wrong sides. When he's not working his dead-end factory job, he's pursuing his dream of becoming a rap star and leaving behind his life of difficulty. After breaking-up with his girlfriend, he is forced to live with his hussy mother (Kim Basinger), her slime-ball boyfriend (who happens to hate him), and his innocent little sister. Rabbit gets a chance to showcase his talents at the local underground club, emceed by the "Future" (Mekhi Phifer: Clockers, ER), but chokes on stage. Despite his failure, he is still supported by a solid group of friends who encourage and stand by him, despite the fact that Rabbit is white and the Detroit hip-hop scene is black. Predictably, the balance of the film follows Rabbit as he tries to find himself and his place in the world. Along the way he finds love (kinda), gets beat up, and then as expected redeems himself in the end.
I thought the movie was well cast, most distinctly, Mekhi Phifer as Future. Phifer has such immense talent, and carries off the role quite effortlessly. Kim Basinger reminds me a little too much of LA Confidential in this movie. For some reason she looks like she's just stepped out of an American Idol audition. Eminem of course delivered a powerful performance, but I am a bit reluctant to attribute it to his acting ability, as I wouldn't think that it would be too hard to reenact situations that were a part of one's life. Don't get me wrong, I do think that Em has acting talent, but I wouldn't have nominated him for an Oscar based on this movie. I mean this is Eminem's origins, his image; it's not that much more of a stretch to revert back to Rabbit.
8 Mile is a solid, enjoyable, and worthy movie. The photography, the story, and the cast blend together seamlessly, save a few goofy moments. The free-style rap battles featured in the film were awesome, and showcased the talents of other rappers. Set to a corresponding soundtrack, including the ubiquitous hit "Lose Yourself", 8 Mile will please not only rap and hip-hop fans, but those who are not as well.
Grade: A -
Czarina's Caustic Comment or Captious Compliment: Good movie to loose yourself in.
---
Buy Posters at AllPosters.com
Internet Movie Database Listing
---