Protexx Spams
Approximately a dozen Attrition.org e-mail addresses have received spams from this company. Once again we have a security company spamming people, although in this particular situation we did receive a reply from them admitting their tactics.


From: knash (knash@protexx.com)
To: lyger@attrition.org
Date: Thu, 20 Mar 2008 18:01:29 -0400
Subject: 2008 IT survey


Are your clients concerned about data and identity security?

If not they are among the minority. According to a 2008 IT survey 93% of
the IT professionals responded that they had at least a moderate interest
in providing security around sensitive data or doing additional research
this year. In addition, 84% of the respondents felt that securing access to
corporate data resources (network access, email, proprietary data) was of
immediate interest.

This is a revenue opportunity for you today and the Protexx identity
authentication and 2048 Bit encryption tools can help you achieve this
revenue. The Protexx solutions provide an easy to deploy software solution
that secures any platform. Protexx has developed a state-of-the-art
standards based PKI solution that meets or exceeds all government reporting
and security requirements (HIPAA, Sarbanes-Oxley, PCI).

So whether your needs are implementing an easy to deploy yet robust
solution to protect your internal users or design a solution for your
clients, we have the solutions for you and best of all it is affordable.
Why not let us show you how you can satisfy your customer~Rs data security
concerns today?

We would like to meet with you to discuss how we might work with you to
achieve new revenue and build a strategy to increase your client
satisfaction.

If you would like to participate in future survey's or if you would like
to receive more information
[http://www2.protexx.com/affiliates/index.html?w=RESPONSE10&p=P1026] Click
Here. You can also email Protexx at [mailto:sales@protexx.com]
sales@protexx.com.


This message was sent by: Protexx, Inc., 10 Fairway Dr, Deerfield Beach, FL 33441

Powered by iContact: http://freetrial.icontact.com

Forward to a friend:
http://app.icontact.com/icp/sub/forward?m=123930&s=8774060&c=IKB9&cid=226373

To be removed click here:
http://app.icontact.com/icp/mmail-mprofile.pl?r=8774060&l=6365&s=IKB9&m=123930&c=226373





From: Kirby Nash (knash@protexx.com)
To: 'lyger' (lyger@attrition.org)
Date: Thu, 20 Mar 2008 18:51:10 -0400
Subject: RE: 2008 IT survey

Iyger,

I do apologize for sending you this email.
We are just trying to promote our new product and we thought the list was a
opt-in list.
You will not receive any more emails from us and once again I am sorry for
the mix up.

Sincerely,

Kirby


Kirby Nash
Vice President of Sales
Protexx, Inc.
10 Fairway Dr, Suite 107
Deerfield Beach, FL  33441
c: 917-620-9068
www.Protexx.com





Date: Fri, 21 Mar 2008 10:45:29 EDT
From: EstimatorCorp@aol.com
To: William Knowles, pletizia@protexx.com, knash@protexx.com
Cc: dfeldman@protexx.com, info@protexx.com, sales@protexx.com,
    support@protexx.com
Subject: Re: Our humble apology

Dear  Mr. Knowles

Your name and the other potential domain links, have been removed and  again
we apologize for any inconvenience...

As a matter of fact we will not be using that list we acquired, as you are
correct, and the manner in which we ran the test was inappropriate.

Again we apologize...

This message is totally secured in transit with 2048 Bit Protexx  encryption.
Download trial at: www.Protexx.com

Internet Security
Point ~ Click ~ Secured
Data In  Transit Software Solutions

Mark L Myers, Chairman
35 Evergreen  Parkway, Westport CT 06880
Phone: 203 682 6436, Fax 203 227 4549
E-Mail: mmyers@protexx.com
Web Site: _www.protexx.com_ (http://www.protexxinc.com/)


We opted to also use their spam company (icontact.com) to remind them of thier own Terms of Service (TOS) regarding junk mail.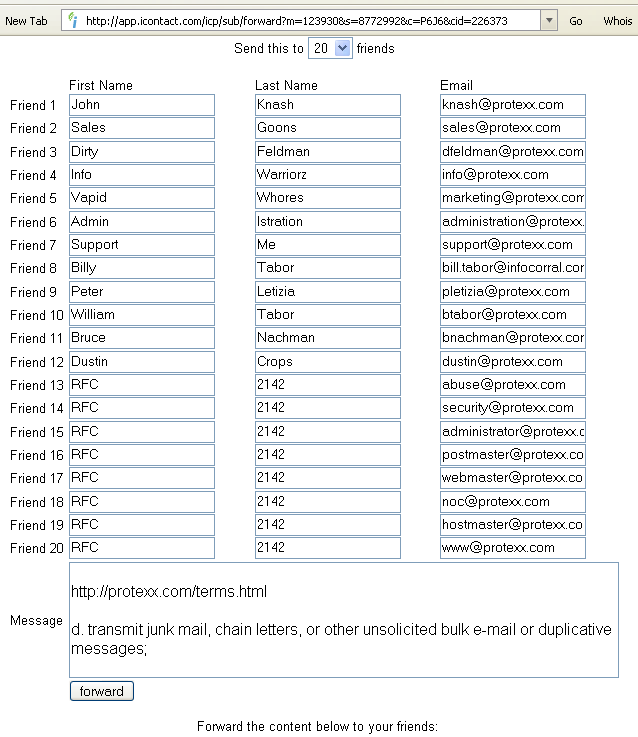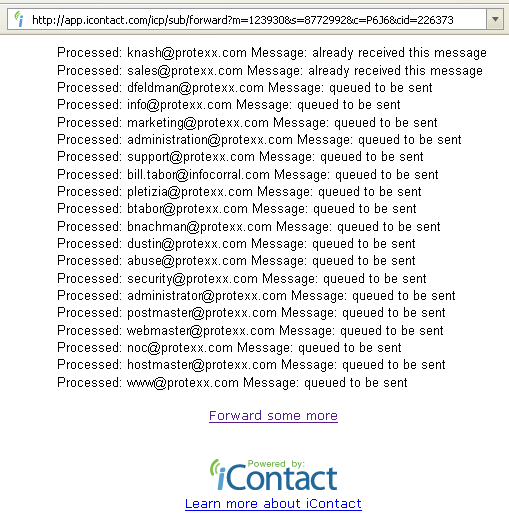 ---