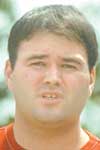 Computer expert faces sex charges
By Jennifer Reeger and Michael Hasch
TRIBUNE-REVIEW
Saturday, August 23, 2003
A Carnegie Mellon University computer security expert is accused of using the Internet to arrange a sexual rendezvous with someone he believed to be a naive 15-year-old Westmoreland County girl named "Kelly." Ian A. Finlay, of Spahr Street, Shadyside, didn't know that Kelly was really a Greensburg policeman who decided to do a little homework while taking a course on how to pose as a child to catch sexual predators, state police said Friday.
Finlay, 26, an Internet system security analyst for the Computer Emergency Response Team (CERT) Coordination Center, was arraigned on 10 counts of unlawful contact with a minor and single counts of attempted involuntary deviate sexual intercourse and attempted statutory sexual assault.
State police Lt. Robert Weaver said Finlay is accused of spending the past six weeks sending sexually explicit e-mails to Kelly, telling her he wanted to have sex with her and arranging a meeting that was to take place yesterday morning at a fast-food restaurant in Hempfield.
When Finlay arrived for the rendezvous, he was taken into custody. He was arraigned before District Justice Mark Mansour and jailed in lieu of $150,000 to await a preliminary hearing.
[..]
---