Vaidehi Sachin - Hacker5 Magazine Plagiarism
Sun Jul 3 23:19:54 CDT 2011
Hacker5 is an online and print magazine managed and edited by Vaidehi Sachin. Started in October, 2010, Newsmakers Broadcasting & Communication Pvt. Ltd (NBC) is touted as India's first hacker magazine. Contributing to the magazine comes with a hefty disclaimer that specifically includes a warning about plagiarism. This warning is ironic given that a majority of the magazine content is provided by Sachin, and is plagiarized from a variety of sources without any attempt to give credit. She goes so far as to 'write' articles and sign her nickname, Cattechie, to them.
In February 2011, Sachin received the Star & Hira Manik Award for "Best Editor (Hacker5 Magazine)" and "Best Writer (Book Cyber Terror)". Given her editor role consists primarily of copying entire articles and republishing them without credit, this award is absurd.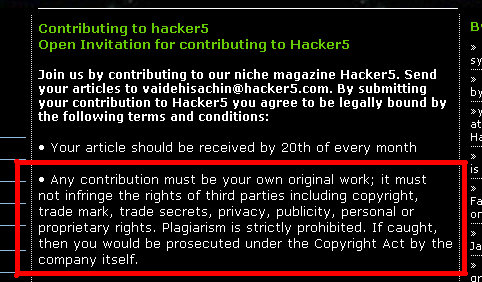 The Plagiarism
The following tables detail portions of Hacker5 magazine, created and edited by Vaidehi Sachin, that contain plagiarized articles. In some cases, entire articles were taken without attribution. In other cases, articles were "written" by pasting together material from several different sources. A few articles specifically list 'Cattechie' as the author. This shows willful infringement of copyright and inexcusable plagiarism.
Hacker5 - July 2011
Note: Not all articles were checked. The following sample represents a near 100% plagiarism rate in the articles that were analyzed.
Article
(Author)
Paragraph/Lines
Original Source
Tuff War Between Google and Microsoft
P2,L1-3
Who's Who At Google New York
P2,L4-8 - P8
Trouble In The House Of Google
P9 - P10
Forget Microsoft vs. Google. This Decade, It's an Apple-Google Slugfest.
P11 - P12
The Dogs of War: Apple vs. Google vs. Microsoft
P13 - P21
Apple vs. Google vs. Microsoft vs. HP: The Unfortunate Truth of the Smartphone
P22 - P26
Microsoft deletes Hotmail data
P27 - P32
Microsoft Blames Server Problem for Hotmail Outage
Wireless encryption is an easy access for hackers
(all)
Mobile broadband the next big hacking risk?
Survey reveals how stupid people are with their passwords
(Mike Lenon)
(all)
Survey Reveals How Stupid People are With Their Passwords
(Author is Mike Lennon. @SecurityWeek confirms they did not give permission to use.)
Five New AdWords Tools that Can Help You Move the Needle
(all)
Five New AdWords Tools that Can Help You Move the Needle
Evolution of Hackers
(Cattechie)
P3
Hacker Manifesto by Amitabh Doctor
P4
Comment to You Say "Hacker", the Feds Say "Terrorist" article
P5 - P7
You Say "Hacker", the Feds Say "Terrorist"
Getting account password through brute forcing
(all)
Cracking FTP Passwords Using Dictionary Attacks
Gmail keeps your email untraceable
P3
How to find the IP address of the email sender in Gmail, Yahoo mail, Hotmail, AOL, Outlook Express, etc.
P5 - P11
How To Find The IP Address Of Your Google Mail And Yahoo Mail?
P4, P12, P14 - P15
How to find ip address of email sender of yahoo mail or gmail?
Hacktivism vs Terrorism
P2,L1-L3
Which one of those is considered Hacktivism?!
P2,L4-L6
What is Hacktivism
P2,L7-L8
Hacktivism is a linguistic blend of hack and activism.
Introducing Mod_Security
P1 - P3
Web Security Appliance With Apache and mod_security
P3
SpiderLabs Projects or OWASP
P4
Introduction to mod_security
P5 - P6
Mod Security - Open source Web Application Firewall
P7 - P13
Web Security Appliance With Apache and mod_security
USB-Slurping and Social Manipulation
(all)
Hacking Your Computer is Super Easy
Wake Up Hackers - Cyber Terror
(Cattechie)
P1,L6-L7
the Social Networking Empire
Why Hackers Hack
P1 - P2
Why hackers hack
P3
Are hackers omnipotent
P4
What is hacking and reverse engineering? (written by a computer hacker)
P5 - P6
How to detect a hacker attack
In this issue, it is amusing that she claims "Sunny Vaghela is now the Brand Ambassador of Hacker5" given that Vaghela is already on Errata. Only a few articles were reviewed.
---