---


From: knash (knash@protexx.com)
To: lyger@attrition.org
Date: Thu, 20 Mar 2008 18:01:29 -0400
Subject: 2008 IT survey


Are your clients concerned about data and identity security?

If not they are among the minority. According to a 2008 IT survey 93% of
the IT professionals responded that they had at least a moderate interest
in providing security around sensitive data or doing additional research
this year. In addition, 84% of the respondents felt that securing access to
corporate data resources (network access, email, proprietary data) was of
immediate interest.

This is a revenue opportunity for you today and the Protexx identity
authentication and 2048 Bit encryption tools can help you achieve this
revenue. The Protexx solutions provide an easy to deploy software solution
that secures any platform. Protexx has developed a state-of-the-art
standards based PKI solution that meets or exceeds all government reporting
and security requirements (HIPAA, Sarbanes-Oxley, PCI).

So whether your needs are implementing an easy to deploy yet robust
solution to protect your internal users or design a solution for your
clients, we have the solutions for you and best of all it is affordable.
Why not let us show you how you can satisfy your customer~Rs data security
concerns today?

We would like to meet with you to discuss how we might work with you to
achieve new revenue and build a strategy to increase your client
satisfaction.

If you would like to participate in future survey's or if you would like
to receive more information
[http://www2.protexx.com/affiliates/index.html?w=RESPONSE10&p=P1026] Click
Here. You can also email Protexx at [mailto:sales@protexx.com]
sales@protexx.com.


This message was sent by: Protexx, Inc., 10 Fairway Dr, Deerfield Beach, FL 33441

Powered by iContact: http://freetrial.icontact.com

Forward to a friend:
http://app.icontact.com/icp/sub/forward?m=123930&s=8774060&c=IKB9&cid=226373

To be removed click here:
http://app.icontact.com/icp/mmail-mprofile.pl?r=8774060&l=6365&s=IKB9&m=123930&c=226373





From: lyger (lyger@attrition.org)
To: knash (knash@protexx.com)
Cc: info@protexx.com, sales@protexx.com, marketing@protexx.com, 
    administration@protexx.com, support@protexx.com
Date: Thu, 20 Mar 2008 22:26:35 +0000 (UTC)
Subject: Re: 2008 IT survey


On Thu, 20 Mar 2008, knash wrote:

": " Are your clients concerned about data and identity security?

YES!


": " If not they are among the minority. According to a 2008 IT survey 93% of
": " the IT professionals responded that they had at least a moderate interest
": " in providing security around sensitive data or doing additional research
": " this year. In addition, 84% of the respondents felt that securing access to
": " corporate data resources (network access, email, proprietary data) was of
": " immediate interest.

What percent had at least a moderate interest in spammers?  As in, you
know, preventing spam, especially from those claiming to be in the
security industry?


": " This is a revenue opportunity for you today and the Protexx identity
": " authentication and 2048 Bit encryption tools can help you achieve this
": " revenue. The Protexx solutions provide an easy to deploy software solution
": " that secures any platform. Protexx has developed a state-of-the-art
": " standards based PKI solution that meets or exceeds all government reporting
": " and security requirements (HIPAA, Sarbanes-Oxley, PCI).

Does it protect against spam?  Fuck money, I just want people to QUIT
SENDING ME SHIT ABOUT THEIR FUCKED UP PRODUCTS THAT "ACHIEVE REVENUE".
Damn, if your shit can't do that, you're wasting my time.


": " So whether your needs are implementing an easy to deploy yet robust
": " solution to protect your internal users or design a solution for your
": " clients, we have the solutions for you and best of all it is affordable.
": " Why not let us show you how you can satisfy your customer~Rs data security
": " concerns today?

My needs are TO GET PEOPLE TO QUIT SPAMMING ME. I love my caps key, so
I'll use it again.  QUIT SPAMMING ME.  There.  I feel better.  Man, I need
a smoke now.


": " We would like to meet with you to discuss how we might work with you to
": " achieve new revenue and build a strategy to increase your client
": " satisfaction.


To whomever either sent this or receives my reply, we can meet.  Your chin
can meet my nuts.  If you want to help increase our revenue, make a PayPal
donation, you cheap fucks.

http://attrition.org/news/paypal.html


": " If you would like to participate in future survey's or if you would like
": " to receive more information
": " [http://www2.protexx.com/affiliates/index.html?w=RESPONSE10&p=P1026] Click
": " Here. You can also email Protexx at [mailto:sales@protexx.com]
": " sales@protexx.com.

No, but check out the CC field...


": " This message was sent by: Protexx, Inc., 10 Fairway Dr, Deerfield Beach, FL 33441

This message was sent by Lyger, keeper of all things unholy.  In his
pants.  h0h0h0.


": " Powered by iContact: http://freetrial.icontact.com

Powered by Bud Light, Marlboro Lights, and SPAMMERS WHO PISS ME OFF.


": " Forward to a friend:
": " http://app.icontact.com/icp/sub/forward?m=123930&s=8774060&c=IKB9&cid=226373

That would MAKE ME A SPAMMER.  JUST LIKE YOU.


": " To be removed click here:
": " http://app.icontact.com/icp/mmail-mprofile.pl?r=8774060&l=6365&s=IKB9&m=123930&c=226373

Since none of us opted in, how about you take ALL attrition.org email
addresses out of your spam database, you cocksmokers?

*kisses*

Lyger





From: Kirby Nash (knash@protexx.com)
To: 'lyger' (lyger@attrition.org)
Date: Thu, 20 Mar 2008 18:51:10 -0400
Subject: RE: 2008 IT survey

Iyger,

I do apologize for sending you this email.
We are just trying to promote our new product and we thought the list was a
opt-in list.
You will not receive any more emails from us and once again I am sorry for
the mix up.

Sincerely,

Kirby


Kirby Nash
Vice President of Sales
Protexx, Inc.
10 Fairway Dr, Suite 107
Deerfield Beach, FL  33441
c: 917-620-9068
www.Protexx.com





From: security curmudgeon (jericho@attrition.org)
To: knash (knash@protexx.com), sales@protexx.com
Cc: dfeldman@protexx.com
Date: Fri, 21 Mar 2008 07:05:53 +0000 (UTC)
Subject: Re: 2008 IT survey


: Are your clients concerned about data and identity security?

As much as they are about unwanted spam.

: If you would like to participate in future survey's or if you would like
: to receive more information
: [http://www2.protexx.com/affiliates/index.html?w=RESPONSE10&p=P1026] Click
: Here. You can also email Protexx at [mailto:sales@protexx.com]
: sales@protexx.com.

I'd like to let you know one thing and request another.

FYI: You mailed this to our errata address, which is a tad ironic given
that the http://attrition.org/errata/ section deals with security
companies who send unsolicited mail. You'll be seeing yourselves up there
when we get a few spare minutes.

Request: Remove all addresses related to 'attrition.org' from your spam
list.

: This message was sent by: Protexx, Inc., 10 Fairway Dr, Deerfield Beach, FL 33441

This message was NOT sent in compliance with the CAN-SPAM act and violates
federal law. How exactly does a potential customer trust your company
after this?

: Powered by iContact: http://freetrial.icontact.com

Who doesn't believe in truth-in-advertising obviously, as you can not
track the "opens, clicks and more" when you send this mail to many
security professionals, who do not use point-and-drool mail clients.

: Forward to a friend:
: http://app.icontact.com/icp/sub/forward?m=123930&s=8772992&c=P6J6&cid=226373

Ok, I will!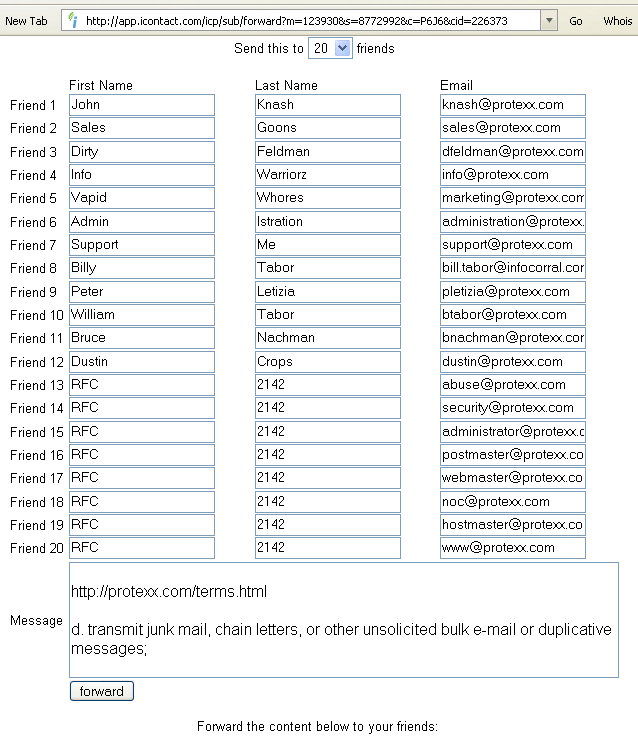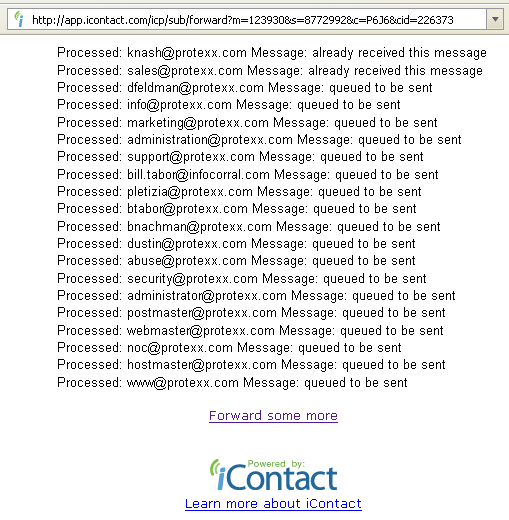 Date: Fri, 21 Mar 2008 10:45:29 EDT
From: EstimatorCorp@aol.com
To: William Knowles, pletizia@protexx.com, knash@protexx.com
Cc: dfeldman@protexx.com, info@protexx.com, sales@protexx.com,
    support@protexx.com
Subject: Re: Our humble apology

Dear  Mr. Knowles

Your name and the other potential domain links, have been removed and  again
we apologize for any inconvenience...

As a matter of fact we will not be using that list we acquired, as you are
correct, and the manner in which we ran the test was inappropriate.

Again we apologize...

This message is totally secured in transit with 2048 Bit Protexx  encryption.
Download trial at: www.Protexx.com

Internet Security
Point ~ Click ~ Secured
Data In  Transit Software Solutions

Mark L Myers, Chairman
35 Evergreen  Parkway, Westport CT 06880
Phone: 203 682 6436, Fax 203 227 4549
E-Mail: mmyers@protexx.com
Web Site: _www.protexx.com_ (http://www.protexxinc.com/)





Date: Fri, 21 Mar 2008 08:15:37 -0500 (CDT)
From: William Knowles
To: Peter Letizia (pletizia@protexx.com), Kirby Nash (knash@protexx.com)
Cc: dfeldman@protexx.com, info@protexx.com, sales@protexx.com,
    support@protexx.com
Subject: Re: Our humble apology

On Fri, 21 Mar 2008, ProtexxInc@aol.com wrote:

>  Sorry for the e-mail, we were testing a new program and had not completed
>  our message with the opt out clause,

REALLY?!? Why should I have to opt out of a spam list I never opted-in to in the first place?

>  In the meantime we have removed your name from our test mailing, and if you
>  would like additional information please feel free to visit our web site and
>  make your request...

Don't remove my name, (whatever spam list you bought couldn't even get my name right) 
Remove the domains "c4i.org" and "infosecnews.org" from all future mailings, purge us from all 
your company's databases. I don't want to consider or recommend any company that has to resort 
to spamming in the first place!

As I said in the previous mail, I would appreciate a reply to this mail assuring me that you have 
complied with my request to remove those domains mentioned above.

William Knowles
Director
C4I.org




From: security curmudgeon (jericho@attrition.org)
To: Kirby Nash (knash@protexx.com)
Date: Fri, 21 Mar 2008 18:57:38 +0000 (UTC)
Subject: RE: 2008 IT survey


Hi Kirby,

: Once again I am sorry for the confusion. We sent an email to prospects
: that were opt-in. It is now obvious that you are not one of those
: prospects and I do apologise again.

You sent this mail to several attrition.org addresses (including an alias
that is not a real mailbox), you sent it to several addresses at c4i.org
and/or infosecnews (including the mail list which specifically says it
does not re-post commercial advertisements).

: I will make sure that we do not send you any more emails.

I appreciate that. In the mean time could you please give an official
response to two questions for an article we may be drafting?

1. Your message was NOT sent in compliance with the CAN-SPAM act and
violates federal law. How exactly does a potential customer trust your
company after this? (The mail did not identify itself as an advertisement,
the subject was misleading)

2. How exactly do you and Protexx think that list was generated from an
'opt-in' source? Did Protexx create this list or did they purchase it
from someone else?

Brian


---