Laura Callahan
The White House Fiasco and "Project X"
There have been several articles that cover the White House "Mail2" fiasco. A brief technical description demonstrates it was not Callahan's fault. The controversy lies in how Callahan and another person attempted to cover it up, if abusive threats were made and the general handling of the entire situation. As a senior information technology manager at the White House, Callahan had some level of responsibility for the "Mail2" issues. Those technical issues lead to a loss of thousands of emails being archived as required by law. When a congressional subpoena was issued around the Clinton/Lewinski saga, many of the emails were not available.
Rather than write a long summary of the events, the following news articles and quotes summarize the issue adequately.
http://en.wikipedia.org/wiki/Laura_Callahan:
During an examination of campaign finance irregularities of the 1996 presidential campaign, investigators discovered that thousands of subpoenaed federal email messages were missing due to an unspecified computer error. In March 2000, Callahan was called to testify before Congress regarding her role as White House IT manager during the Clinton administration. Three Northrop Grumman contract workers responsible for operating the system testified that Callahan and another federal employee ordered the problem to be kept so secret that it was referred to only as "Project X".
http://archives.cnn.com/2000/ALLPOLITICS/stories/03/23/whitehouse.email:
White House officials acknowledge email glitch secrecy, say no threats were made.
[..]
Some of them felt so threatened by their initial meeting with Callahan and Lindsay that they requested legal counsel, according to Steven Hawkins, the Northrup Grumman program manager.
[..]
The technical problem was to be kept so secret that it came to be known as Project X, and the team, led by Lambuth, held a series of furtive technical meetings at a nearby Starbucks coffee house and Lafayette Park, across the street from the White House, to keep the issue confidential.
http://www.ciozone.com/index.php/Latest/What-Happened-To-The-White-House-E-Mailsu/Trouble-Ahead.html:
Still, after the Mail2 server problem was discovered, Laura Crabtree Callahan and Mark Lindsay, director of White House management and administration, ordered Northrop Grumman staffers on the project to fix the archival system and maintain absolute silence regarding their efforts, according to testimony the Northrop staffers later gave a House Government Reform Committee investigating the missing emails. Some Grumman workers even claimed that Callahan threatened to have them jailed if they talked -- a charge that was never proven in court and Lindsay and Callahan denied. The clandestine project, according to CNN and other media sources, became known as "Project X." Participants, including the Northrop crew and a White House project manager, met at a nearby Starbucks or in Lafayette Park, keeping their work secret even from some IT staffers within the White House.

Eventually, when the details behind the Mail2 failure became evident, House Government Reform Chairman Dan Burton (R-Ind.) said, "The big deal is not that a computer technician made a mistake. The big deal is how the White House reacted to it." He was referring the White House's attempts to conceal the mistake.
http://reason.com/archives/2005/01/01/cut-rate-diplomas:
Callahan's management style had always been heavy-handed. Once, while working in a previous supervisory role at the Clinton White House, she reportedly warned computer workers to keep quiet about an embarrassing server glitch that led to the loss of thousands of archived e-mails covered by federal subpoena. But with her newly minted Ph.D., Callahan became intolerable, several employees say, belittling and even firing subordinates who did not understand the technical jargon she apparently picked up while studying for her doctorate in computer information systems.
[..]
At the time, Callahan had applied for an important high-level position at the Department of Homeland Security. The job was deputy chief information officer, similar to the post she held at the Labor Department. But this new job required integrating and managing some of the nation's most sensitive databases in a time of war. Callahan clearly wasn't qualified, no matter what her résumé said. Wainwright wondered if she could even be trusted with a top-secret security clearance.
[..]
In fact, Callahan was twice promoted by the department, even as complaints about her promoting unqualified cronies and rewarding them with big bonuses piled up against her at the office of Labor's inspector general. A confidential 2001 report issued by Assistant Inspector General John J. Getek cited "allegations of waste, mismanagement, fraud and abuse" against Callahan's office. Another Callahan employee.one of the complainants, who claims she retaliated against him in evaluations and raises.gave me a copy of the report, which concluded that Callahan's management practices had led to "low morale" among her 60 federal employees and 65 contractors. Callahan and her lawyer declined repeated requests for comment.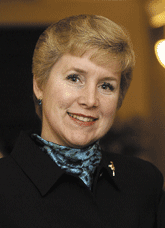 ---