Laura Callahan
Fake Diplomas, Intent and Defrauding the US Government
To hear Laura Callahan talk about her diplomas, she was a trusting and naive person who got taken for a ride. "I think it's just my willingness to believe in people and my naivete," she says. Yet, according to WorldNetDaily, she "back-dated the degrees, all obtained between 2000 and 2001, to appear as if she earned them in 1993, 1995 and 2000, respectively." That does not sound like the work of a naive person, but rather a charlatan trying to con an employer.
Using several articles that have covered this, we summarize the story here.
http://en.wikipedia.org/wiki/Laura_Callahan:
Laura Callahan is a former senior director at the United States Department of Homeland Security who resigned after an investigation revealed that she had obtained academic degrees from a diploma mill. Callahan had also served as Deputy Chief Information Officer (CIO) of the US Department of Labor and was previously a senior information technology (IT) manager at the White House. Through her work in the latter position, Callahan had been involved but not responsible for computer problems that caused thousands of email messages to escape the reach of a congressional subpoena.
http://reason.com/archives/2005/01/01/cut-rate-diplomas:
Callahan's fraud was exposed in May 2003. Curiously, she wasn't forced to resign until March 26, 2004, after being placed on administrative leave - with pay - the previous June. That means she continued to draw her Department of Homeland Security salary of between $128,000 and $175,000 for nearly 10 months while under a serious ethical cloud.
To be clear, her lies about her education and diplomas not only lead to a potentially unqualified and unethical person being placed in positions of extreme secrecy and importance, they lead to over $100,000 in losses from her salary alone while on suspension. This doesn't count the high price tag associated with the investigation and lost hours in which the investigating body could have been doing something more productive.
http://www.wnd.com/?pageId=323373:
The administration in May quietly hired Laura Callahan for a sensitive post at the U.S. Cyber Command, a newly created agency set up to harden military networks as part of an effort to prevent a "cyberspace version of Pearl Harbor."

The move raises doubts about the administration's vetting process for sensitive security positions. In 2004, Callahan was forced to resign from Homeland Security after a congressional investigation revealed she committed résumé fraud and lied about her computer credentials.

Investigators found that Callahan paid a diploma mill thousands of dollars for her bachelors, masters and doctorate degrees in computer science. She back-dated the degrees, all obtained between 2000 and 2001, to appear as if she earned them in 1993, 1995 and 2000, respectively. She landed the job of deputy DHS chief information officer in 2003.

"She's a dubious hire, to put it charitably," said Tom Fitton, president of Judicial Watch, a government watchdog in Washington that sued the Clinton White House to retrieve missing emails.
http://www.wired.com/politics/law/news/2004/03/62689:
Oregon lists Hamilton University as a "substandard institution" whose degrees are illegal for use as credentials in the state.

There are no students visible in the campus pictures on Callahan's alma mater's suspiciously thin website, which is registered by a corporation in Hawaii.

The website says the school is accredited by the American Council of Private Colleges and Universities, which is not recognized as an official accrediting organization by the federal government. The group's voicemail says the council does not provide a list of the schools it accredits.
http://gcn.com/Articles/2004/04/02/Laura-Callahan-resigns-from-DHS.aspx:
Laura Callahan, former senior director in the Homeland Security Department's CIO office, resigned from the department late last month.

Callahan had been on administrative leave with pay since last June, after a PostNewsweek Tech Media investigation revealed that she had three questionable degrees from a diploma mill in Wyoming.

Callahan, who before moving to DHS had been deputy CIO of the Labor Department, lost her security clearance following the department's decision to place her on administrative leave, so she could not work in the CIO office.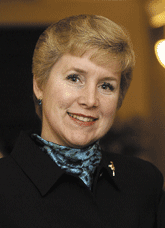 ---